Getting ready to go back to school can be a daunting task, especially for a college student moving back into their dorms or a freshman moving onto campus for the first time. While buying textbooks and new bedding is a priority, there are other dorm room must-haves to be purchased in order to ensure a safe and healthy year: a First Aid Kit or a selection of First Aid Supplies. Our Back To School selection is just that – hand picked Basic First Aid Supplies and personal First Aid Kits that you know how to use.
Here are some of the must haves we think you should have in your Dorm Room:
Bandages and Triple Antibiotic Ointment. From Paper-cuts to avocado hand, you're more than likely to get a cut or two in your room. Proper cleaning, use of antibiotic ointment, and protection during the cut or scrapes healing time can prevent infection and closing any bacteria under the skin. For more on care for cuts, check out our blog post here.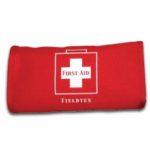 Our Dorm First Aid Kit. This kit is stocked with a variety of bandages and gauze, wipes, antibiotic ointment packets, burn gel, and even an ice pack. This compact cloth kit fits easily in a desk or dresser drawer, out of the way 'til you need it. All you need to know is basic First Aid practices for minor injuries, and this easy-to-restock kit can protect you (and your roommates) for the entire semester.
Hot/Cold Compress. Sitting in classes all day can leave you with a sore back, a headache, or worse. Using a hot or cold compress to relieve any aches and pains (or to just help you relax!) can help you stay focused and pain-free.
Pre Wrap. Pre-wrap isn't just for college athletes anymore. Need some inspiration? Check out our post on A Dozen Ways To Use Pre Wrap.
Bike Bag. Staying active between long sedentary periods is important and is as easy as biking to class (again, check out the negative aspects of staying seated for long periods of time above). Our Bike Bag connects and disconnects easily from any bike frame, and is the perfect size for a wallet, a cell phone, a snack, or even Basic First Aid Supplies. Keep your hands free and don't risk losing something from a pocket!
Over The Counter Medicines. The preliminary measurement in self-treatment of an ache, pain, or sickness, having OTC medicines on hand will help you treat that cold. Obviously these are no substitute for professional medical help, so it's good to know where Health Services is located on campus.
Vitamins and Minerals. Balancing your diet and health with the responsibilities of college can be hard – taking a multi-vitamin or supplement can help promote a healthy and balanced semester.
Having Basic First Aid Supplies on hand as the first line of defense against minor injuries can not only protect you and your roommates, but can also help you maintain your focus and well-being throughout the school year.