September is FEMA's National Preparedness Month, a month that encourages planning, prepping, and being ready for any emergency that could occur in your community or on a broader scale. With Hurricane Harvey taking a toll on Texas (here's how you can help) and Irma and Jose threatening to hit Florida, the importance and timeliness for National Preparedness Month is stressed even more so than in years past.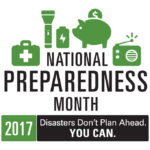 With this years theme of "Disasters Don't Plan Ahead. You Can." , the importance of having a plan in place in case of emergency is highlighted and encouraged. Planning ahead by having a safe meeting space or shelter, stocking proper supplies, and having a solid communication plan in place are all important parts of the planning process. Raising awareness not only helps communities stay safer, but proper training in the event of a disaster also help to lighten the load on First Responders.
While plans will vary depending on if it is for a business, a home, or a place of worship, there are some supplies that will always be helpful in the event of a disaster.
Some emergency supplies we recommend are*:
A well stocked First Aid Kit: This may be an obvious one. However, based on a Poll taken about 5 years ago, about 44 percent of American homes don't have a first aid kit, and 48 percent don't have any emergency supplies. Hopefully the percentage of lacking homes has decreased, but a well stocked kit can provide you with health supplies from wound cleaning and protecting supplies to pain relief pills. While we do stock a line of Disaster Preparedness Kits, building off of a Basic First Aid Kit can help you design a kit that caters to the community it will be serving, for example, stocking an emergency kit with any specific prescriptions or necessary medical devices.
A Radio
Emergency Drinking Water or Water Purification Tablets – clean water is the most important thing that your body needs.
Food and non-perishable items.
Batteries
A Tourniquet – one of the most important supplies for severe lacerations. More on that here.
Gloves – Durable gloves can protect your hands from any injuries if you are required to move debris. Medical Gloves are also good for Personal Protection, but are a comparatively less durable option.
A Pet First Aid Guide – Pets are often overlooked when it comes to stocking an emergency kit – having proper pet first aid knowledge makes sure you have even your animals protected.
Tyvek Coveralls or other wearable Personal Protection , such as Protection Masks
A Holster Kit for any Tools or Supplies
An Emergency Tool or a Tool Set
Vests to increase your visibility
A compact Fire Extinguisher
Toothbrush and Toothpaste and any other Dental Care items
*This is just a basic list to help you plan ahead in the case of a disaster situation. This is does not ensure you will be completely prepared, but it is a good basis list to work from in order to begin prepping.