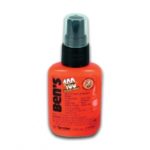 Every week we highlight one of our products in an effort to educate our customers on not only what E-First Aid Supplies has to offer but also how to be prepared for different, unique situations.
This week's Product of the Week is Ben's 100 Insect Repellant Spray. When outdoors, the best way to protect yourself from West Nile Virus, Lyme Disease, and other infectious diseases is through the application of insect repellant with DEET. Ben's 100 Insect Repellant Spray contains 95% DEET and provides up to 10 hours of protection from mosquitoes and other disease carrying insects.
For more information on West Nile Virus, click here.
To stay up-to-date with E-First Aid Supplies, follow us on Facebook, Twitter and Pinterest